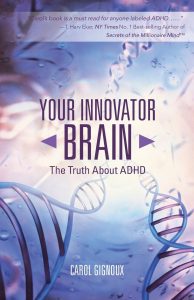 Your Innovator Brain – The Truth About ADHD  – An ADHD Support Group
This ADHD support goup is based on the book Your Innovator Brain – The Truth About ADHD by Carol Gignoux. The book is based on Carol's years of experience and success with Innovator Brain types (ADHD). Carol will empower you to find success in relationships and career. You'll also learn how to achieve work/life satisfaction and find peace.
Using wisdom and strategies taken directly from the book, you will have opportunities to break through barriers. These barriers are keeping you stuck. By being a part of this ADHD support group, you'll learn how to grow.  Join this book support group so you can bring more empowerment and accomplishment into your life and live a life you truly love!
Support group highlights:
Participate in one-on-one coaching to determine the outward behaviors and mental perceptions holding you back
Discover strategies you can use on your own to change those behaviors and mental perceptions forever
Understand how your unique brain works, its strengths and its limitations , so you can apply your new mastery techniques successfully
Create a blueprint for your future with a structured and comprehensive plan of goals, actions and support systems
Build relationships with other group members to support your transformation
Experience a compassionate environment where each individual's gifts and attributes are recognized and enjoy fun and humor among friends
This book is the culmination of over 40 years experience and work with Innovator Brain types (ADHD). This book allows Carol to help more people effectively and in a shorter period of time.
How to Join the Group
Register your interest by completing the contact form below. We'll be back in touch with dates, fees and additional information. Please include both your phone number and email address.
Next ADHD Support Group Begins Soon!
6 Classes for as Little as $699.99!
Stop Procrastinating Now!